Singapore Version: 240v 50Hz with SG Pin Outputs + Singapore Safety Mark + 5 Year Local Warranty (NEW Fresh Restock Monthly)
The portable home battery: DELTA Pro sports a 3.6kWh capacity that can be expanded all the way to 25kWh. The kicker? You can integrate it directly with your home circuits via the Smart Home Panel. Ideal for home backup.
Power pretty much anything: DELTA Pro leads the industry when it comes to AC output. With 3600W you've got a portable generator that can power heavy-duty appliances such as dryers, AC units & more. Need even more power? Pair two units together to hit a massive 7200W.
An expandable ecosystem: DELTA Pro is more than a portable power station. It can be expanded with  Extra Batteries, Smart Generators and even the Smart Home Panel. Control it all via your phone with the EcoFlow app.
The world's fastest charging portable power station: DELTA Pro can charge via one of 6 methods. It's the first that can be charged from an EV station, and can even Multicharge by combining methods to achieve a rapid 6500W charge. That's the industry gold standard.
Integrates with your home: By using the Smart Home Panel (sold separately), DELTA Pro can provide power to up to 10 home circuits. Ideal for when a power outage hits, or for regular use to save on your bills.
Introducing the world's first portable home battery with an expandable ecosystem for home backup, smart energy management, lower energy bills, and more. The EcoFlow DELTA Pro is the next leap in portable power technology, offering you power security and independence, wherever you are.

Expandable Capacity

Power Pretty Much Anything (3600W-7200W Output)

World's Fastest Charging (MultiCharge 6500W)

Home Integration
Power for any situation.
From tailgate power to extreme blackouts that last for days on end, DELTA Pro delivers up to 25kWh of capacity. With that, you're covered for any situation. That's the industry gold standard.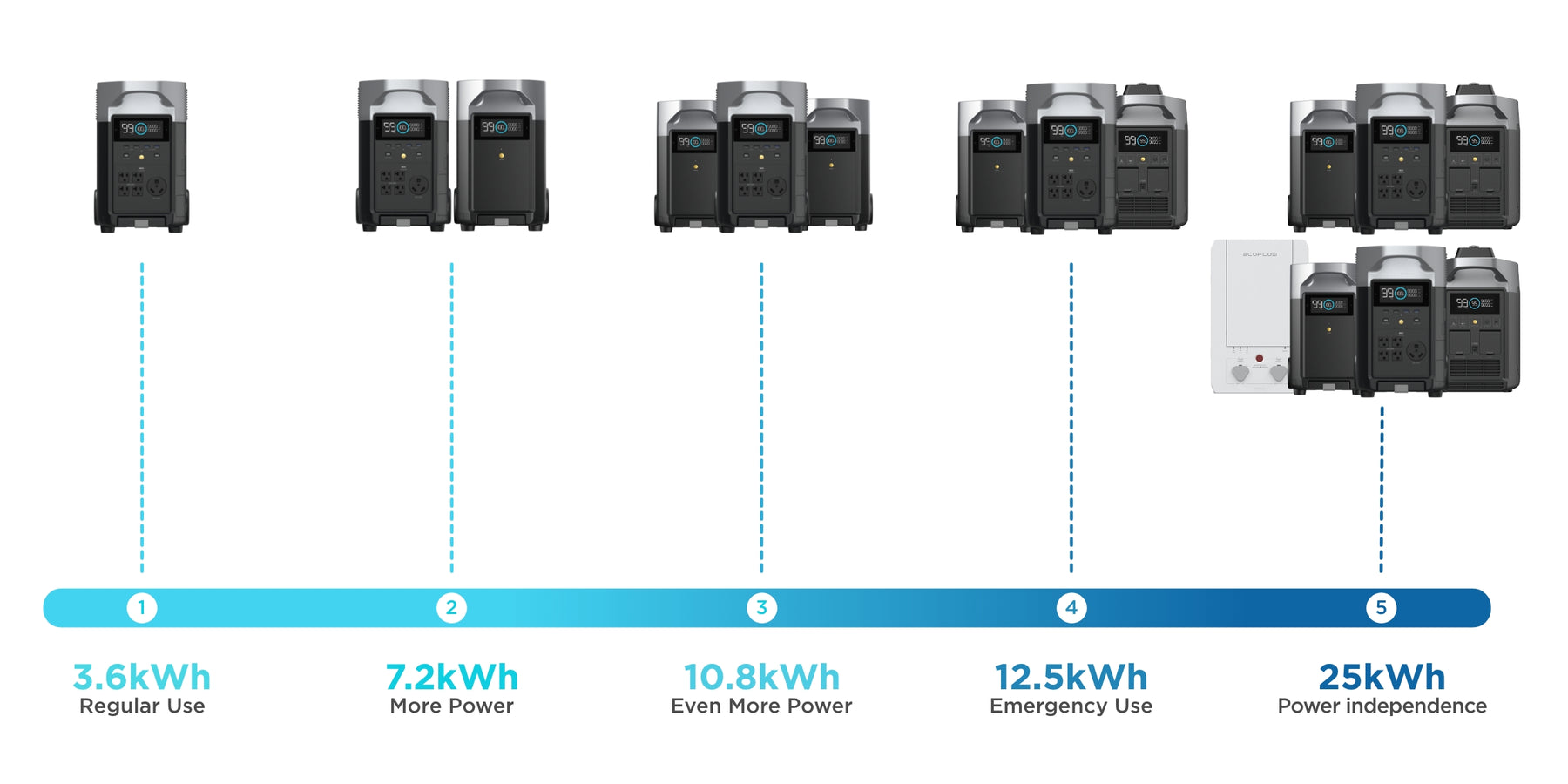 All the AC output you'll need.
A single DELTA Pro unit packs a 3600W AC output, which can be expanded up to 4500W with X-Boost technology. Power 99.99% heavy-duty devices at home, outdoors, or at work. You can even pair two units together to achieve 7200W.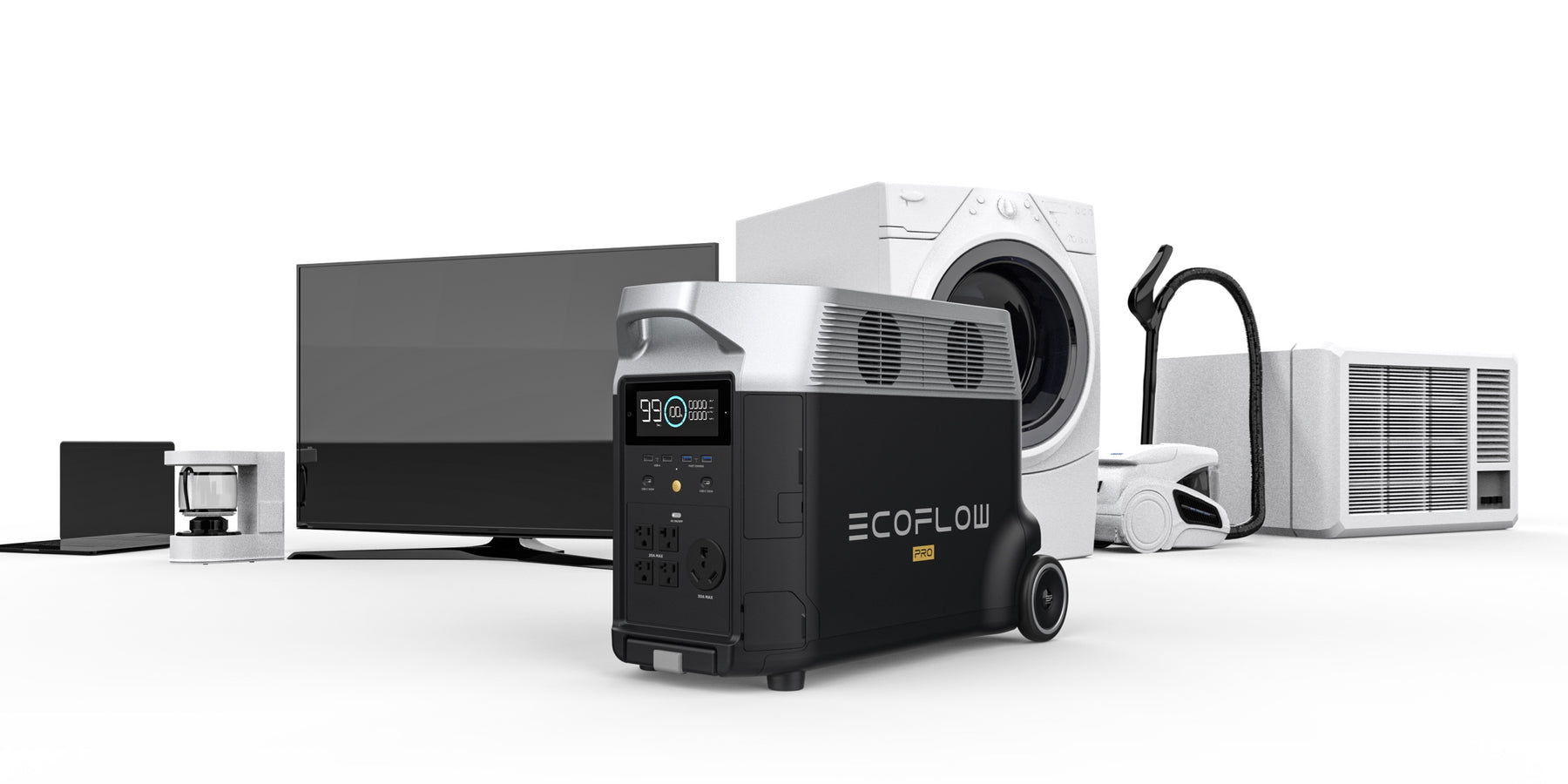 The world's fastest charging portable power station.
MultiCharge delivers record-breaking speeds at 6500W. To reach 6500W, you can opt for these charging methods.
Fully charge in 1.8 hours.
EcoFlow's X-Stream charging technology isn't just fast, it's safe too. The battery management system ensures safety and longevity while you fully charge DELTA Pro from a standard AC wall outlet in 1.8 hours*.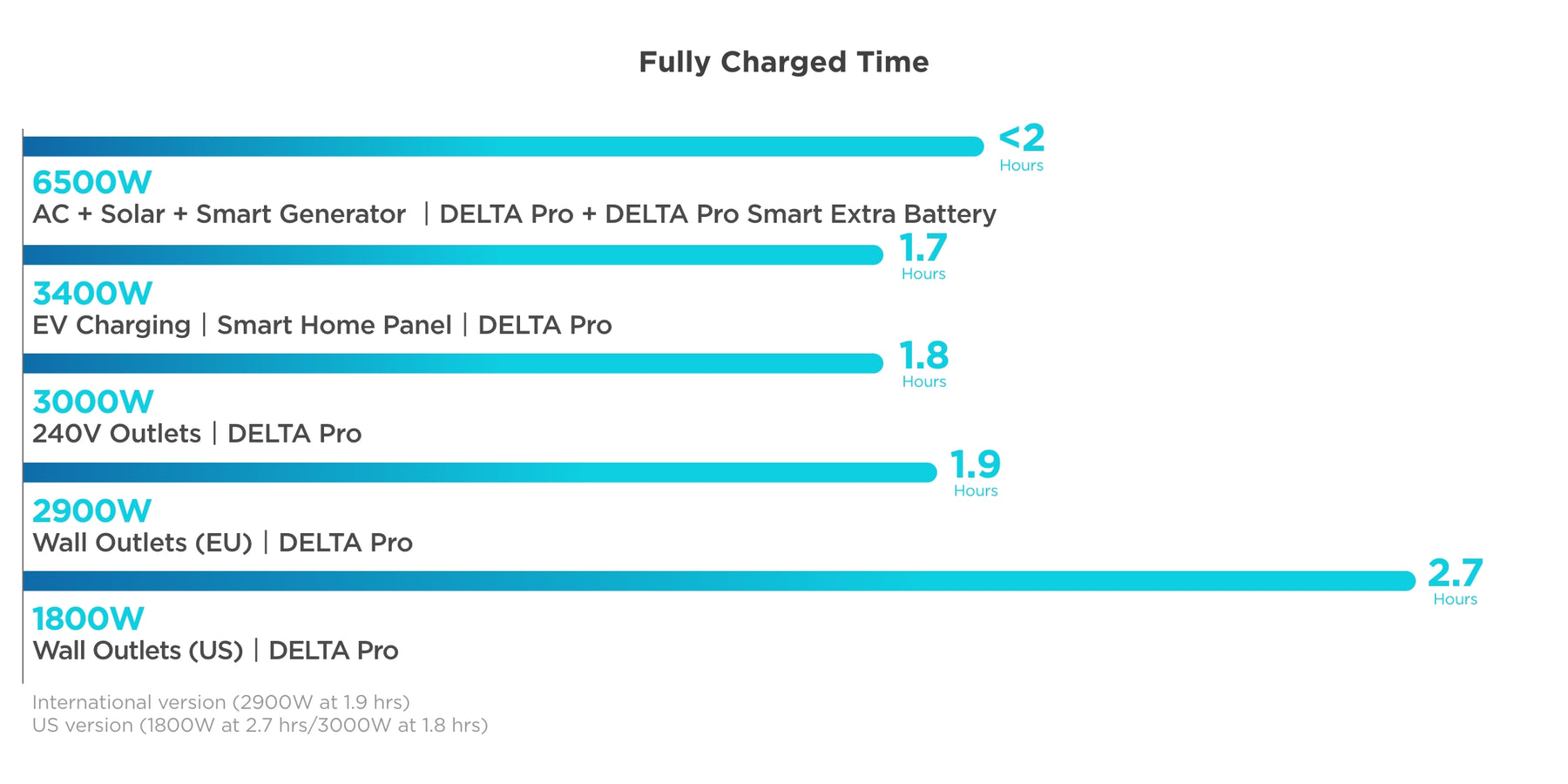 Charge up at thousands of EV stations worldwide.
For the first time ever with a portable power station, you can charge up at thousands of EV stations worldwide. This uniq